"Well, at least this one actually moved before it blew up. That's improvement, no?"[1]
When he first appears in the strip, Doctor Hugo Glassvitch is Chief of Research at Transylvania Polygnostic University in Beetleburg, and a brilliant scientist in general, although not a Spark. He is a generally kind person and is the closest thing Doctor Silas Merlot has to a friend.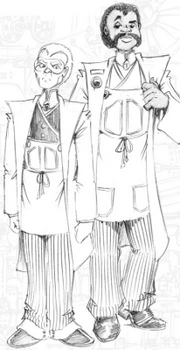 He originally studied in
Paris
, possibly at the
Paris Institute of the Extraordinary
(where
Gilgamesh Wulfenbach
and
Ardsley Wooster
would eventually study), then came to TPU to work for and with Doctor
Tarsus Beetle
.
While "Agatha Clay" was a student and lab assistant at TPU, he befriended her in part because of her obvious earnestness at her studies, despite her constant frustrations, and would defend her against Merlot's bitterness towards her.
It is unknown if his employment circumstances have changed following the death of Doctor Beetle and the departure of both Agatha and Merlot from Beetleburg, but he evidently learns her true identity at some point and sends a copy of her academic records to Paris.
The Works
Edit
Dr. Hugo Glassvitch is a card in The Works. His details are Hero and Sidekick.
Dr. Glassvitch shares with Master Payne the instruction to shuffle the board and rebuild it face down — a reprieve, a more relaxed state of affairs, a bit of a new start.
Possibly relevant outside information
Edit
It should be fairly obvious to the multi-media-inclined that Doctor Glassvitch's appearance is based on Barney Miller and Firefly/Serenity actor Ron Glass.
References