Alice Bentley is a Foglio minion rather better known back in the Chicago area where she grew up, attended and ran numerous science fiction conventions. She created the science fiction specialty shop "The Stars Our Destination" which was open from 1988 to 2004.
Friends with Phil Foglio since the mid-1970s, she has helped out at various trade shows and conventions over the years, and was an official Studio Foglio paid-and-everything staff member (i.e., packing boxes, making copies, scanning, data entry, and nagging) from 2004 to 2012. She can write fine catalog copy or press releases, but is not a writer, and can draw and paint better than stick figures but is not an artist.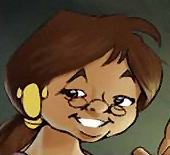 While still staying in touch (and posting to the Girl Genius FaceBook page now and again) she can mostly be found working at Magic Mouse Toys in Pioneer Square, Seattle, where she works most every weekend and so doesn't get out to conventions much any more. [1][2].
She has a particular fondness for (and maybe a little identification with) Mary's mother.
References