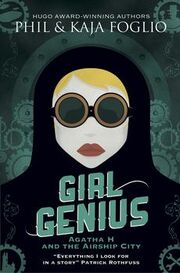 Agatha H. and the Airship City is the first volume of the novelization. It covers the material from the first three volumes of the graphic novel: Agatha Heterodyne and the Beetleburg Clank, Agatha Heterodyne and the Airship City, and Agatha Heterodyne and the Monster Engine.
The book is published by Night Shade Books (since 2013 an imprint of Skyhorse Publishing) in the US and Titan Books in the UK.
Agatha H. and the Airship City (Girl Genius) is available for preview and order at Amazon.com.
The request that preorders be delayed until 12 January 2011 was honored by enough fans that the book broke into the top 20 and reached #17 on 'Girl Genius Day'.
It is also available as an ebook from Baen Books. Baen eBooks are available in the following DRM-free formats:
Mobi/Kindle/Palm
EPUB/Nook/Stanza
Sony LRF
Rocketbook
RTF
MS Reader
HTML/Online
Baen has the prolog and first chapter available as samples.
The Kindle edition is also available for purchase and download.
Relationship to the graphic novels
[
edit
|
edit source
]
This book starts a little before the start of the first graphic novel. The approximate relationship between the book and the graphic novels and web comics is:
See Delta Prose: Agatha H and the Airship City.
See also: Tom Kidd's navel history of his cover art work for the book.
The midnightchemist took notes and has blogged on liveJournal. She followed up with this article which suggested a more understandable timing for the prologue.
Community content is available under
CC-BY-SA
unless otherwise noted.